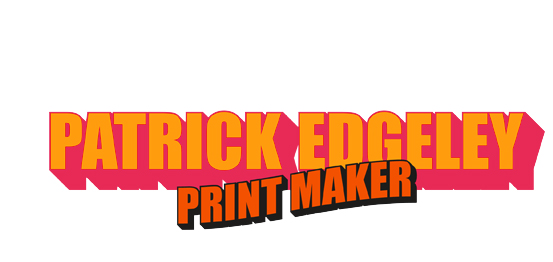 Brighton & Hove based screen printer Patrick Edgeley cre­ates limited edition screen prints that employ bold, hand drawn text and imagery. Americana, signs, packaging and pop culture are a great influence in these hand printed works.
A love for all things typographical can be seen through out his screen prints, something that stems from his many years work as a graphic designer. The screen prints are produced in short, limited edition runs and are available from his website, various galleries and exhibitions around the world (See NEWS section for exhibition dates)
How the Screen prints are created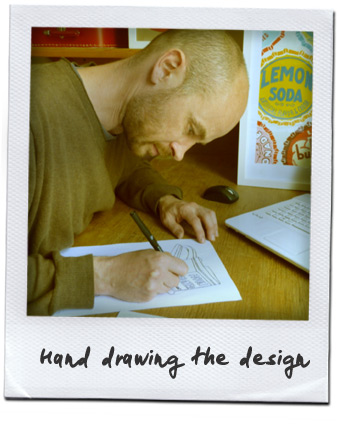 Hand drawn image
I'm always looking for inspiration for my prints. Currently I'm into collections of vintage things such as packaging and every day objects.
I hand draw the objects and arrange the elements until I'm happy with the composition.
Coating the screen
Colour separation is the next step, all colours are made into black and white then transferred to transparent film ready to be burnt onto a screen.
The screen is coated with a thin layer of photo sensitive emulsion. The emulsion is then kept in a dark room until dry.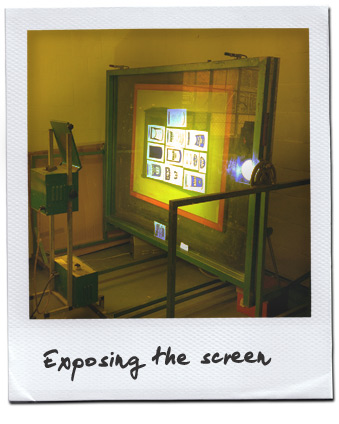 Exposing the screen
Take the transparency and place on the screen, right side down, this is kept in place by a vacuum pump on the exposure unit. Depending on the image the screen is exposed for an amount of time.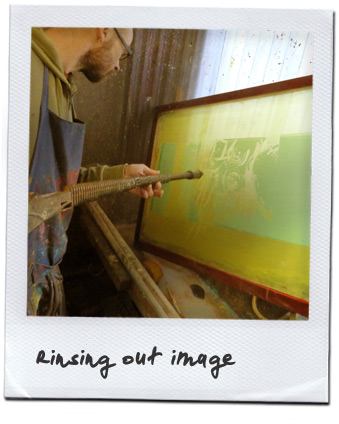 Rinsing the screen
After emulsion has been exposed, remove transparency and take to spray booth. Here gently rinse out entire screen- the emulsion will completely wash away where the image was as well as any excess emulsion that could run into image while drying. After rinse set screen aside to dry.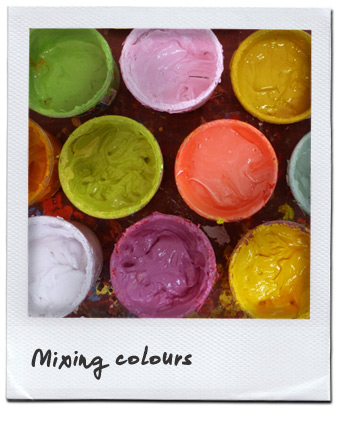 Mixing colours
Mix up the desired colours for the print, these are usually water soluble acrylic mixed with printing medium to slow down the drying process.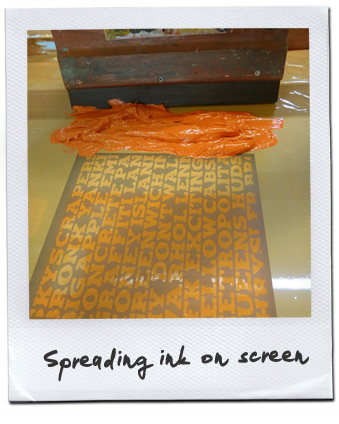 Speading the ink on the screen
Take the mixed ink and spread across screen below image then flood the screen with ink using the squeegee (repete this before each pull) .
Pulling ink across screen
Take squeegee (squeegee should span just slightly larger than width of image) and pull ink through screen using even pressure, this will push ink through the screen (not the areas where the emulsion is left) depositing a thin coat of ink on the paper.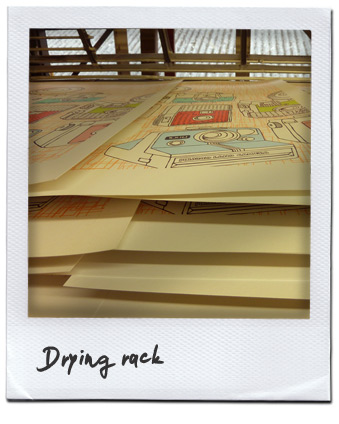 leave to dry
Leave to dry on a rack before starting the process over again for the next colour.