My work will be for sale along with some fantastic artists & makers at Buddy & Beehive.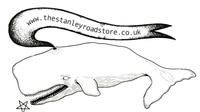 The Stanley Road Store Takes over Fiveways, Brighton
On Saturday 16th of September, The Stanley Road Store –  which was shortlisted in May as one of the best houses in this year's
Brighton Artists Open House festival – will be openings its doors for its first ever pop-up shop.
Located at 132a Preston Drove in Brighton, this eclectic pop-up will feature the work of local established makers with a cult following and new emerging creatives and their unique products.  Some of the 25 makers include: Katie Weiner with her exquisite re-worked heirloom jewellery, Made by Swimmer who make charming soft toys created using recycled materials, Dolly who designs utility clothing with a fun twist, mosaic artist Anna Tilson and retro-inspired illustrator Patrick Edgeley. There will also be one-of-a-kind work such as stained glass, pottery, accessories, soft furnishings, plants, prints, illustrations, yoga wear, clothing and jewellery.
The aim of the four month pop-up, which will run until 2nd January 2018, is to bring together local makers to sell their work in a feel-good collaborative space in a craft-loving and independent-product seeking community, just outside the city centre.
Maxine Michaelides founder of The Stanley Road Store and curious lighting company Lost And Foundry said: "As a long-term Brighton resident and maker, I know how difficult it can be for makers, like myself, to find exciting opportunities locally where you can sell your work."
"After the success of The Stanley Road Store during the Brighton Artists Open Houses festival over the last couple of years, which this summer saw 4,000 curious visitors stop by, I wanted to give makers and the local community further opportunities to meet and engage with each other."
"I'm thrilled to say that we will be opening our pop-up shop this autumn to bring together 25 artists and makers under one suspiciously charming roof!"
The Stanley Road Store pop-up opens on Saturday 16th September at 132a Preston Drove, Brighton, BN1 6FJ and will remain open until January 2nd 2018. As well as being the most exciting shop in town, they will also be also hosting weekly shopping and meet the makers events.